February was another slow month for my Ford GT's odometer, with only 140 miles added. But I did manage to get it to a car show and a burger joint (gotta love In-N-Out) and I realized the Goodyear Eagle F1 tires' have a rim protector design. I also note the oil pressure gauge's high readings, even at idle, which suggests the Ford GT's dry-sump engine design does indeed provide excellent lubrication to vital engine components.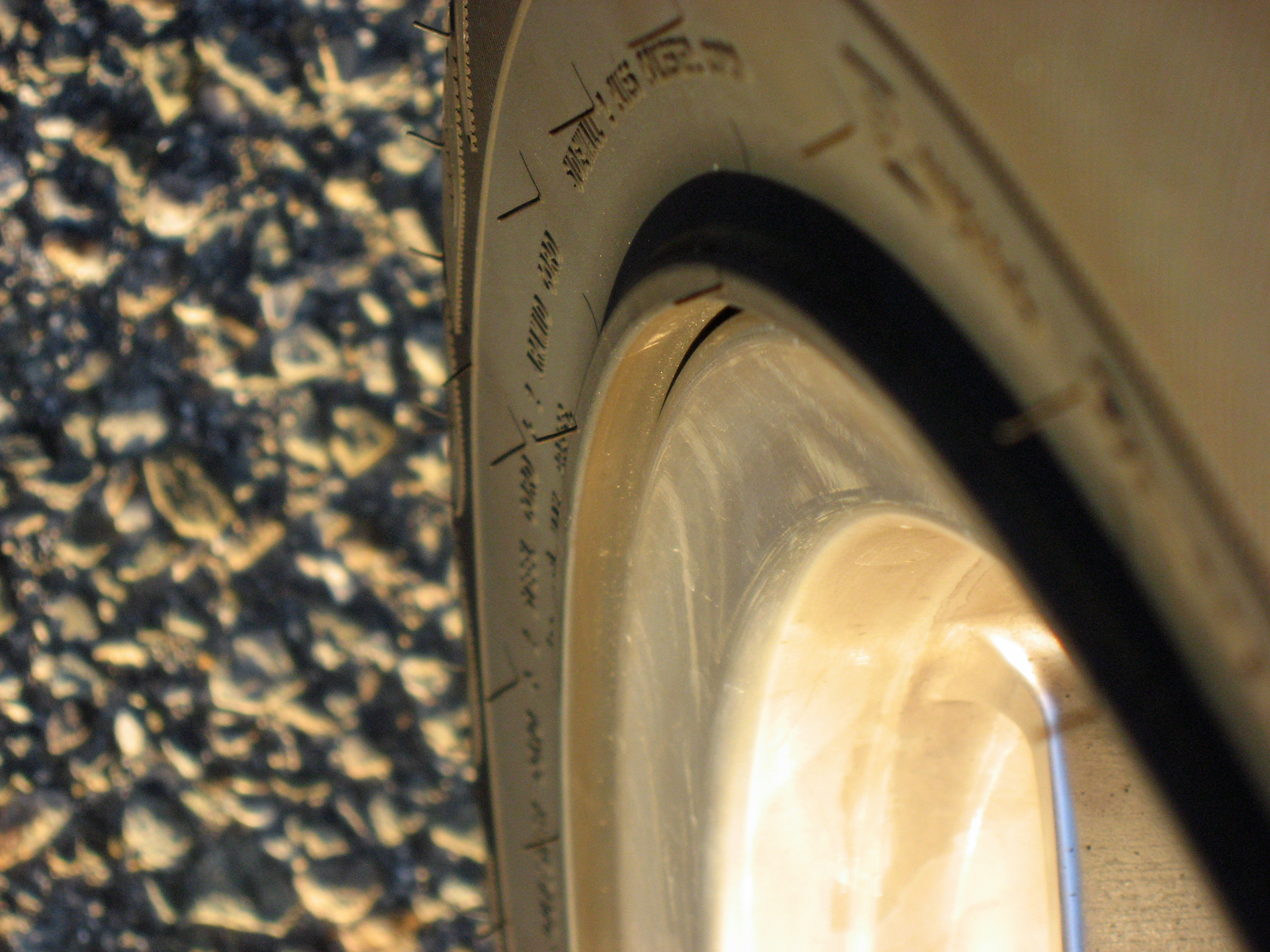 The design of the Goodyear Eagle F1 tire helps protect the GT's wheelFord GT Tires Offer Wheel Protection
February 5, 2007 at 7,440 miles
This seems like such a no-brainer design, yet many modern tires still don't include any form of rim or wheel protection. A tire with this design feature will have a raised rib next to the bead to keep a wheel from scraping the curb — even if a driver is too careless to handle this job on his own. After checking The Tire Rack web site I learned that while rim protection ribs are great for alloy wheels, they can make it nearly impossible to mount hubcaps. And since the majority of cars today still use hubcaps the majority of tires still don't feature this seemingly obvious feature…
But the Ford GT's Goodyear Eagle F1 tires do have this rim protection, and that's a very good thing. Yesterday I was trying to park it when I saw a cluster of busted glass right where I had pulled into a lot. I didn't want to drive over it, so I slowly backed up to go around the hazard. Then I felt that tale-tale resistance and realized the rear passenger wheel must have rubbed the curb. I eased forward and avoided the glass, figuring there was going to be a nasty scrape on my wheel. Then I got out and inspected the wheel closely, fearing what I'd find. Nada. The wheel was scratch free, and as soon as I looked at the tire it was obvious why.
Good going Goodyear!
Ford GT Goes on a Burger Run!
February 12, 2007 at 7,490 miles
Taking an exotic car through the drive-thru can be problematic. You've got a low, small window to get the food through, expensive materials to potentially spill on, and, of course, no cupholders. Despite all that, the Ford GT makes for a surprisingly friendly drive-thru partner. The window is big enough to keep paper bags and/or drinks from tipping over, and while no cupholders are included the local In-N-Out is kind enough to include an effective drink holder (plus their service folks are always so darn friendly)…
And as long as no one is in the passenger seat the deep footwell area is bracketed by a center console, bucket seat and door sill to keep you from spilling your "well-done" fries.
So go ahead, hit the drive-thru in your Ford GT. Just watch those throttle applications and cornering Gs!
Ford GT Features a Calibrated Oil Pressure Gauge
February 15, 2007 @ 7,520 miles
After driving a Miata a few days ago, and posting about its troubling oil pressure gauge at idle, I figured a shot of the Ford GT's gauge in the same circumstance would help crystalize my point. I look at this gauge while stopped in L.A. traffic (meaning I have PLENTY of time to look at it on my drive to work), and nothing but warm reassurance washes over me. It's hovering around 35 p.s.i., which is superb oil pressure for a V8 that is fully warmed up and idling around 900 rpm…
The high performance, dry sump oil system is likely helping out here. Plus there's an official "red zone" on the oil pressure gauge, meaning (beyond the actual numbers) it's easy to see I've got nothing to worry about in terms of engine lubrication. And isn't that the feeling an oil pressure gauge is supposed to impart?
Ford GT Attends a Car Show
February 26, 2007 at 7,580 miles
Despite the "relaxed" nature of the Supercar Sunday car show in the West Valley you can see some pretty stunning machinery between the hours of 7 and 11 a.m. I drove over with the Ford GT yesterday and was one of about eight Ford GTs (and several hundred other cars) in the parking lot. The previous Sunday I spent several hours detailing the Ford with various Zaino polishes, so it was ready to roll and the Midnight Blue paint was about as shiny as I've seen it. I was parked between a Dodge Viper, a '32 Ford Street Rod and a 427 Cobra directly behind me…
The only downside was the cool 45-degree temperature at 7 a.m. It slowly warmed up over the next couple hours, but then rain clouds threatened and I tried to get the car inside before my detailing efforts were summarily washed away by Mother Nature. Alas, a steady sprinkle fell on the way home, but because the car had several coats of wax the water just beaded up and rolled off. Thus the other reason to keep your car polished.